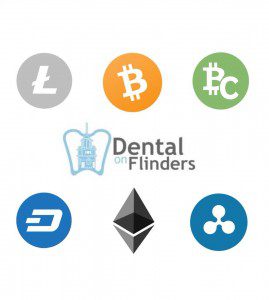 We accept BTC and top Altcoins at Dental on Flinders. We have a preference for coins that have fast transaction times and low fees: 
1. Scan the corresponding QR code that is available at reception. Please ensure you scan the correct QR code! We can text/email our wallet address if you prefer.
2. We will give you the AUD conversion rate from a reputable exchange or coinmarketcap.com
3. Transfer us the correct amount of the coin of your choice.
4. Wait until the transaction clears, and the coins are in our wallet.
BTC transactions will need to be prepaid due to their current slow transaction times.