Regular dental examinations will keep your teeth stress free!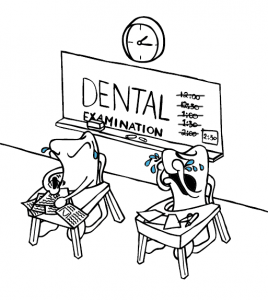 Our mission at Dental on Flinders is to focus on prevention. Regular dental examinations are central to this. We will ensure that every effort is put in place to help prevent dental problems. Also any existing problems will be spotted early so any treatment can be performed as conservatively as possible.
As part of our mission statement we will always be honest and ethical. If you have good teeth you deserve to know that they are in good shape! Conversely if some treatment is needed we will discuss all the options with you and ensure you are in the loop at all times.
The Tooth Club offers some great value. Much better than extras cover if you ask us!
Alternatively, There are 4 Packages for diagnosis and prevention.
Check-up with all needed X-rays- $155
013 or 014 – Consultation
022, 037 – All X-rays Included
This is a good option if you need a thorough diagnosis and treatment plan made. Up to 45 minutes will be spent diagnosing and planning.
Check-up and Clean Package – $265
011 or 012 – Comprehensive/ Periodic oral examination
114 – Removal of calculus
121 – Topical fluoride
072 – Intra-oral photos
022, 022+, 037 – X-rays, if required
The vast majority of our patients are suited to our Checkup & Clean Package. If your teeth are in relatively good health, this will help you maintain your dental health long term.
Once every 12-24 months preventive radiography will make sure there are no hidden cavities.
Life-time Whitening Package – $475
011 or 012 – Comprehensive/ Periodic oral examination
114 – Removal of calculus
121 – Topical fluoride
022, 022+, 037 – Any necessary X-rays, if required
119 – Impressions for take-home Whitening – Whitening gel is complimentary for all future cleaning appointments (6 monthly)
Our Life-time Whitening package helps you keep your teeth pearly white in addition to being healthy. We'll start you off with a Check-up, Clean and custom make you whitening trays. Thereafter, we will provide you with complimentary whitening gel which you can receive with every routine 6 monthly check-up and clean.