New PatientSpecial offer $199(usually $280)full check-up and teeth cleaning.
Signs that you may need a professional teeth cleaning
Visible tartar buildup
Visible stains
Bad breath
Bleeding gums
Sensitive teeth
Painful gums
About Us
At Dental on Flinders, we believe in the power of a smile. Our dedicated team of experienced dentists, dental hygienist and oral health therapists are here to ensure that your teeth receive the care they deserve. Say goodbye to plaque, stains, and discomfort - say hello to a brighter, healthier you!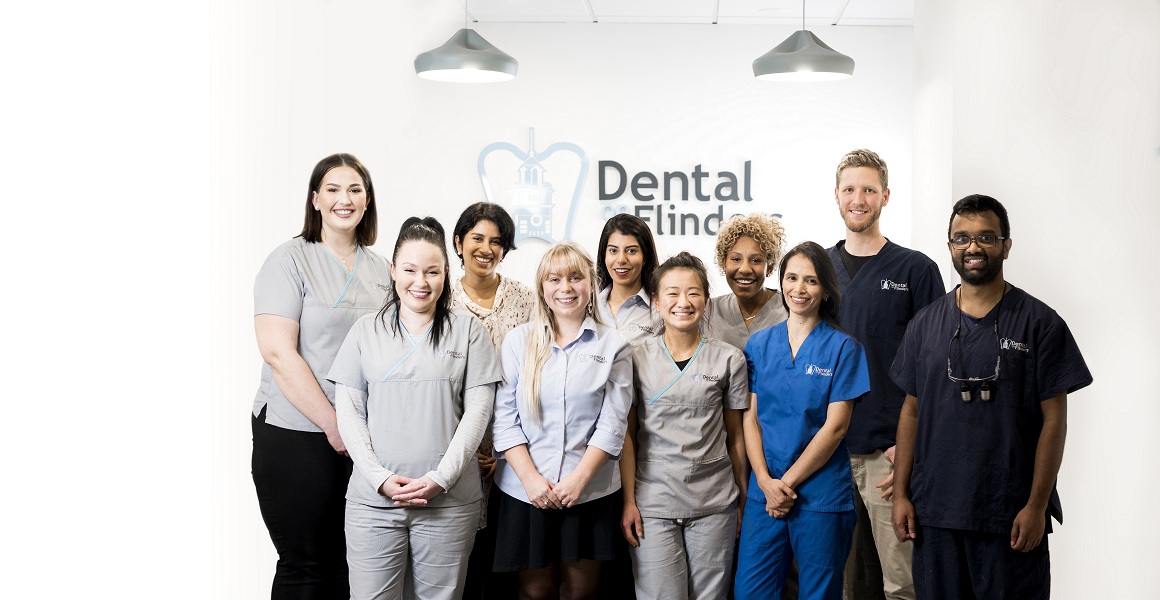 Why Choose Us for Teeth Cleaning?
Expert Care Our team is led by skilled and compassionate dentists who have years of experience in providing top-notch dental care. Your comfort and oral health are our top priorities.
Cutting-Edge Technology We utilize the latest dental technology, AirFlow to ensure that your teeth cleaning is as efficient and effective as possible. This state-of-the-art tool minimises discomfort and maximises results.
Personalized Treatment No two smiles are the same. That's why we offer personalized check and teeth cleaning tailored to your unique needs and preferences. Our long appointments allow us to listen to your concerns and work with you to achieve your smile goals.
Our Offer includesAny necessary x-rays, 3D scan, high resolution photos and a clean with a powerful new technology, AirFlow! Plus, you get all your imaging data and an independent report sent to your phone.
Benefits of Regular Teeth Cleaning
Regular teeth cleaning is not just about a sparkling smile; it's about maintaining your overall health. Here are some of the many benefits
Prevent Tooth Decay

Removing plaque and tartar buildup helps prevent cavities and tooth decay, saving you from future dental pain and expenses.

Fresh Breath

Say goodbye to bad breath. Clean teeth are a key to maintaining fresh and pleasant breath.

Gum Disease Prevention

Regular cleaning helps prevent gum disease, which can lead to tooth loss if left untreated.

Brighter Smile

Removing stains and discoloration reveals a brighter, more confident you.
Our Teeth Cleaning Services
We offer a range of teeth cleaning services to meet your unique needs
Standard Teeth Cleaning Our standard cleaning removes plaque and tartar, leaving your teeth feeling fresh and smooth.
Deep Cleaning For those with more advanced gum disease, we provide deep cleaning to remove bacteria and help restore gum health. This usually requires at least 2 appointments.
Children's Teeth Cleaning We make dental visits a positive experience for kids, teaching them the importance of oral hygiene from an early age.
Google Reviews
Outstanding service! Very friendly, knowledgeable and helpful!
This Dental Clinic shook my expectations. As a 18 year old recently moving to melbourne I was nervous for my first dental appointment alone, but before I stepped into the clinic I felt welcomed by a beautiful smile waiting for me. This clinic makes it clear they're a family, not just colleagues. Everyone greeted me by name with a handshake and welcomed me for my first appointment. My concerns were listed on a google form you fill in before hand, which was amazing because i didn't have to sit down and explain why I was there and wait for them to think about how to help. I could immediately tell they had read my concerns and even planned out my appointment! I was extremely happy with the fact the doctor (Dr Max) shook my hand, introduced himself, and said "welcome to dental on flinders", which is expected but now days overlooked. Overall this was an extremely positive experience and i've definitely found my new dentist. FEEDBACK: When you book your appointment and add it to your calendar through the link, the address is wrong. It says floor 2 instead of floor 5. That's all, Thank you very much Dental on Flinders !!
Great and professional service
Last week I had a filling fall out whilst I was at work, and was lucky enough to be able to be squeezed in by Dr Callum and luckily his assistant Monique who both stayed back late on a Friday night which I was extremely grateful for. Dr Callum was very professional and ensured I was comfortable the whole time, and I would definitely recommend him to anyone needing any restorative work as the filling looks and feels great. Thank you for providing such wonderful service!
Damian Galbally
2023-06-20
My recent experience with Dental on Collins reflected the previous, which involved an extraction. The preparation and care they provide was personal and genuine. The procedure was performed and I was given meds for when the anaesthetic wore off. It was a surprise that I did not need them. The overriding theme of this practice is "care", a word used often but practiced rarely. My recent visit with Dr Max was the same friendly feeling, with the utmost consideration to the technical advice supplied. I would highly recommend this practice to anyone but particularly to someone like myself whose early experiences with Dentists often fell short of the consideration for sensitivities of patients. Dental on Flinders are the exact opposite thankfully.
I was anxious about attending after neglecting my dental care since Covid but I couldn't be happier with the experience or the outcome. Kit was fantastic and very gentle, he made me very comfortable and the equipment was impressive. No unnecessary recommendations for work in my report. This is now my dentist in Melbourne.
Really good experience there with Dr North and the really nice staff. Definitely recommend!
Anne O'Connell
2023-04-07
Dr. Callum did a general clean for me and did a superb job. His care when doing the clean meant that I didn't feel any sort of discomfort. His knowledge and language when describing the type of ongoing care that my oral health required was easy to understand and felt manageable. Dr. Callum is an extremely skilled dentist with an easy going nature that allowed me to feel very confident and comfortable during my visit to the clinic. I would highly recommend Dr. Callum and his team for your next dental visit.
Alejandra Gonzalez
2023-03-18
I was so scared to see the dentinst for a while after I was diagnosed with a root canal treatment, I was so decided to pull my tooth out, however, I was just needing a filling change and I'm here like new. Thanks, dc Callum
I recently visited Dental On Flinders for a routine dental cleaning. The office was clean and well-maintained, and Nancy was very friendly and welcoming. During my cleaning, Dr Keana and Milisa were professional and thorough, taking the time to explain the process and answer any questions that I had. After my cleaning was finished, my teeth felt noticeably cleaner and healthier. I was impressed by the level of attention to detail and care that Dr Keana showed during the process. I would highly recommend Dr Keana to anyone in need of dental services. Her professionalism and commitment to patient care are truly exceptional, and I will definitely be returning for future appointments. Thank you, Dr Keana, Milisa and Nancy for providing such great service!
Opening Hours
Monday

9am - 5pm

Tuesday

9am - 5pm

Wednesday

9am - 5pm

Thursday

8am - 4pm

Friday

8am - 5pm

Saturday

9am - 4pm

Sunday

CLOSED
Level 5, 276 Flinders Street
Location
Being a dentist in the Melbourne CBD, many of Melbourne's great attractions are at the doorstep of our dental clinic. Admire the architecture of Flinders St. Station, shop in the Collins St. or Bourke St. shopping precincts or simply have a barista made coffee and relax along Degraves St.